Digital Trends for Culture and Live Performance in 2022
We look at the trends that will affect organisations that sell tickets and live experiences over the next year.
January 24, 2022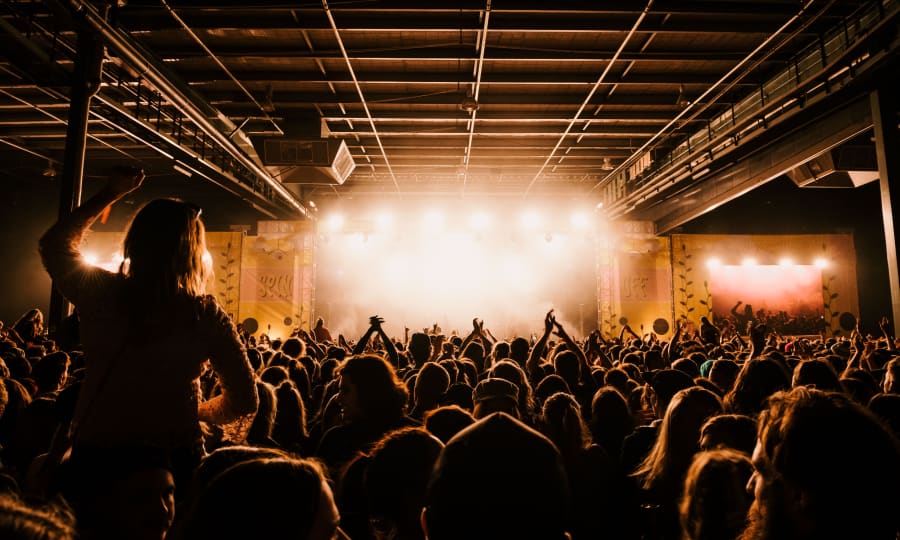 As we move further into this new year, and cautiously start to consider what a post-Covid world might look like, here are five trends that will affect organisations that sell tickets and live experiences, whether they are arts, cultural, sports, or entertainment venues.
2022 is going to be a year of transition, as we move beyond survival (2020), and reopening (2021), and consider the strategies and operating models for a post-pandemic world.
1.
Local communities will matter more than ever
As people's working and commuting patterns change, so will the way we engage with our audiences.
Why is it happening?

The Covid-19 pandemic has dramatically changed the rhythms and dynamics of our major cities. Our cities and other urban centres have developed over centuries in ways that centralise major gathering places such as museums, stadiums, concert halls, and theatres, and attract audiences from large catchment areas. This urban model has been contingent on a residency and commuting model that does not look like it is returning post-Covid. Prior to the pandemic, the population of Manhattan doubled every weekday, with workers and others coming into the city. By November 2021, subway use in New York City was still only at 60% of pre-pandemic levels. In London, daily commuting figures in November 2021 were down to about 50% of their pre-pandemic levels.

Estimates of how many workers will be able to work in a remote or hybrid way in the long-term vary from 40% to 85%. Even at the lower end, this is going to make a long and lasting impact on our cities, and on the venues and spaces that rely on commuters as a key part of their audience. In many ways, the professional groups who make up a significant portion of the audience of these venues are going to be the most affected by this change: knowledge workers who can work from anywhere and increasingly are not working from an office in a big city.

Cities are not going to disappear; they will still be an engine for culture, creativity, and innovation. Nonetheless this change still has the potential to dramatically alter the buying and attendance behaviours of a key part of our audience. If you are located in a city and reliant on large weekday populations, this is a clear challenge that will start to really manifest in 2022. If you're not in a city, you may have more opportunities to engage an audience that is no longer leaving your local area during the week.

What does it mean for my organisation?

With fewer people travelling to the hearts of our big cities on a daily basis, we need to re-think our audience strategy, by:

Focusing on 'local' audiences, who already live in the centres of big cities. Typically this population is younger, more diverse, and engaged with a greater variety of live performance and events, outside of traditional 'cultural' experiences. If you are outside of a major urban centre, you need to plan to attract an audience who may now be local during the week but not at weekends. This may require going back to the foundations of your marketing strategy, reviewing and re-planning your segmentation strategy

and marketing mix

.

Reimagining spaces as a home for these communities, and as

spaces of service

to local communities; not just at typical performance times but throughout the whole day.

Going

to

your audience, in the vein of the

NY Phil Bandwagon

, rather than expecting them to come to you. Prior to the pandemic, the New York boroughs of Queens, Staten Island and the Bronx

saw

more than half of their workforce commute to another borough

(typically Manhattan or Brooklyn) every day. If these workers are no longer travelling to your neighbourhood, can you go to theirs?

Re-thinking your programme schedule to reflect when people are travelling into cities. Even though weekday traffic in London is still at 60% of pre-pandemic levels,

at weekends it is closer to 75%

, as tourists and day-trippers visit the city, or people visit their families.

What does this mean for my digital strategy?

Arts, cultural, and event spaces need to rethink their business models, attracting audiences that live more locally, plan later, and may have different expectations for the experience they'll receive. The most successful organisations will see this as an opportunity to re-conceive sales and loyalty models in a

digital-first

way, using digital technology as an effective enabler to physical experiences.

It also means reimagining your venue as a home for the community: how can it be a space that is of service to your local community? How do you reflect this through your website, your digital communications, and your ticket-buying experience?

Traditional audience research will no longer be sufficient to plan programming or events, because it relies on traditional journey and travel patterns. Instead, combine this audience research with digital analytics and non-traditional data sources, and be prepared to both experiment and change your plans to develop a new operating model in an agile way.

How do your event listings, on your website, app and other channels, reflect the fact that not all of your performances, events or programmes will be taking place in your traditional location? Do you need to become more aware of the location of your digital users, even though before the pandemic you may have focused on getting audiences to a specific physical location? How does this impact not only your approach to user experience, but also your content, social, and SEO strategy?
2.
Consumers will look for flexibility
Ticket-buyers now expect the flexibility to change their plans, and not providing this will become a significant barrier for bookings.
Why is it happening?

Before the Covid-19 pandemic, advance bookings may have started 3–6 months before an attendance, depending on the price, type of event, and location. That number has dropped significantly, with many people now only thinking about booking tickets a matter of days or hours before the start time.

Some of this is directly Covid-related, as people fear the need to self-isolate will prevent them from attending, and may therefore gradually return to a pre-pandemic norm. However, the pandemic also had a broader impact on people's ability to think ahead and assume that their plans will be able to go ahead. Even if they're not specifically concerned about the need to self-isolate due to Covid, the uncertainty caused by the pandemic means we are all a little more hesitant about making firm plans months in advance, especially if those plans involve travelling far away from home.

What does it mean for my organisation?

"No exchanges, no refunds" is a pre-Covid relic. Events with high demand may still get away with policies like this, but if demand does not significantly exceed supply, you need to think about how your inflexibility is suppressing demand.

If changing this policy is within your gift, then working out how you can provide real flexibility and peace of mind is going to be key. This doesn't have to be about giving something away for free, as flexible terms could be built into pricing models or offered as a benefit to members or loyal customers.

If you aren't able to unilaterally change this policy, because of relationships with other partners or promoters, then there are other options to provide similar reassurance at the point of purchase, including offering customers refund protection or ticket insurance, underwritten by a third party.

What does this mean for my digital strategy?

It will be important for organisations to think about how flexibility and options for changing tickets can be incorporated into digital channels, by:

Providing opportunities for exchanging and returning tickets in ways that are easy to use by your customers, available online and integrated into your loyalty strategy. This could, for example, be a service that is exclusively available (or available fee-free) to your most loyal customers or members.

Thinking about how you take control of your resale options, for the benefit of your fans. Rather than pushing this out to secondary ticket markets, consider if you can develop your own mini-market for your ticket buyers to re-sell their tickets on your site.

Developing a strategy for engaging with a late-booking audience, who may be more local, require more flexibility, and may require alternative channels for booking tickets.
3.
Digital marketing and privacy will finally collide
2022 will be the year that marketers have to finally face the changes brought about by increased digital privacy.
Why is it happening?

The 2010s saw the slow demise of third-party cookies, starting with the EU's "Cookie Law" in 2011, the rising importance of digital privacy in the public consciousness, and the announcement in early 2020 that Chrome would phase out third-party cookies within two years.

We all thought that 2022 was the year that the web would become a lot more private, with Google Chrome removing support for third-party cookies and associated user tracking. In June 2021, Google announced that this was being delayed until 2023. But it is still coming, and the digital advertising world is still mostly unprepared.

On top of this, 2021 saw the introduction of Apple Mail Privacy Protection, which prevents the sharing of user information such as IP addresses, and masks whether users open marketing emails or not.

The cumulative effect of these moves by the major tech companies, plus others, means that the digital marketing toolkit that we have built up over the last decade is about to fundamentally change.

What does it mean for my organisation?

Many ethical, user-focused businesses, including those in the cultural and live performance space, won't mourn the demise of third-party cookies or invasive email tracking, at least not from a philosophical perspective. However, in our experience, many if not most live event marketers are still making heavy use of cookie-based advertising targeting and are often reliant on statistics about email opens and clicks to determine email effectiveness and retargeting.

What does this mean for my digital strategy?

2022 is therefore the year that digital marketers need to reckon with the impact of these upcoming changes, including:

Ensuring that their web analytics platforms have been moved over to cookieless versions. For users of Google Analytics, this means ensuring that the GA4 has been set up for your websites.

Considering alternatives to cookie-based targeting for digital advertising. In many ways, cultural and events businesses are well-placed to navigate this, because many have established CRM strategies and platforms in place, with good quality historic first-party data. The development of addressable media solutions to transform this CRM data into advertising segments will be a key trend for 2022.

Considering whether there's a first-mover advantage to dropping all tracking, right now. The cookie banner has become ubiquitous across the internet, but what if we were able to make them into an asset by broadcasting the fact that we have removed the scripts that set third-party cookies on our sites?

Re-thinking our email campaigns to focus on clicks and conversions, and providing more opportunities for 'micro-conversions' on our websites, which may not be about necessarily collecting revenue in the form of tickets, donations, or merchandise, but instead about prompting some form of statement of intent such as a 'like', 'save', 'favourite', or 'share' action.

Working out how our digital content strategy fits into the trend we are likely to see develop across the web over the next few years, where more and more content is sat behind registration or login screens, so that publishers can serve ads based on first-party data.
4.
Consumers' digital expectations will continue to grow
The Covid-19 pandemic has prompted a leap in both consumer confidence and expectations around digital technology and experiences.
Why is it happening?

The Covid-19 pandemic accelerated digital transformation in businesses, but also in people's personal lives (remember when we all went crazy for Houseparty?). More people became more comfortable using digital technology to access live events, cultural and creative experiences, and share moments with friends and families.

The pandemic also prompted a huge shift toward mobile payments, as more people preferred cashless and contactless payment options. And QR codes experienced a renaissance, as they became the gateway to socially-distanced ordering in bars and restaurants, and the means to check in at a variety of public venues. Across a range of areas, the pandemic has spurred digital adoption by both consumers and businesses.

We're therefore coming out of the pandemic having experienced a leap in consumer confidence around technology and a resulting increase in consumer expectations.

What does it mean for my organisation?

Now is the time to make sure your digital experiences match up to your users' expectations, from interacting with your digital content, to making a purchase.

What does this mean for my digital strategy?

As you re-open and re-engage with your audiences, you should seek to meet their expections, by:

Reviewing your key user journeys on your site, either informally or through more structured audit and user testing. This is an important step towards ensuring you are providing a digital experience that meets the expectations of your users.

Thinking big about the experience you want to provide to your users, and throwing out any historic hang-ups you might have about process and 'the way things are done'.

Now is also the time to be thinking about mobile wallets, including Apple Pay, Google Pay and others, if you haven't already enabled these on your e-commerce path. Alongside these, consider the use of secondary payment mechanisms such as Buy Now, Pay Later (BNPL) providers. BNPL transactions increased threefold in 2020 and continued rising in 2021 as they became more widely available on retailer sites. Mobile payments and BNPL share many consumer drivers, including convenience and security.
5.
The purchase will no longer be the end of the journey
Consumers' expectations for communication and reassurance before their visit open up a wide range of opportunities for engagement and revenue generation.
Why is it happening?

In this post-Covid world, audiences expect a lot more interaction and communication in the run-up attending an event.

Communication from the event organiser to the attendee has gone from being an exercise in marketing and up-selling to one of reassurance, as protocols around Covid-19 safety are updated, and the attendee wants to know that the event is still going ahead and what they can expect.

Additionally, audiences now expect digital tickets to be part of the offer, so that they can receive their ticket on-demand, on their device, and have it update automatically if any of the details about their attendance changes over time.

What does it mean for my organisation?

The implication of this is that the ticket goes from being simply an entry pass to one that contains dynamic information about the event, as well as a launching-off point to discover more information about how to extend, deepen or upgrade their experience. This is a huge opportunity for organisations that are selling tickets in advance, because each communication touchpoint is an opportunity to engage, delight, and up-sell.

What does this mean for my digital strategy?

Live event organisers should think about how they provide multiple digital touchpoints between the ticket purchase and arrival at the venue, by:

Considering tickets more like airlines think of boarding passes; something that can be updated at various points as a user might change or upgrade their seats, or add extras to their experience.

Thinking about the communication journey you send each attendee on before they arrive at the doors to your venue: have you taken advantage of each touchpoint to not only give them the information they need, but also to engage, delight, and up-sell?

Ensuring that upgrades and up-sells become a routine online ticketing activity for events and experience organisations, which users can activate from their online accounts and take advantage of preferential pricing, deals, and member-linked benefits to make the most of their tickets before they arrive.

Making digital tickets a wallet (and payment method) in and of themselves, which audiences can use to redeem secondary spend, take advantage of promotional prices at concessions and much more.
We're here to help
Here at Made we spend every day navigating these trends and challenges — please get in touch if you'd like to find out more about how we could help your organisation do the same.
Subscribe to the
newsletter